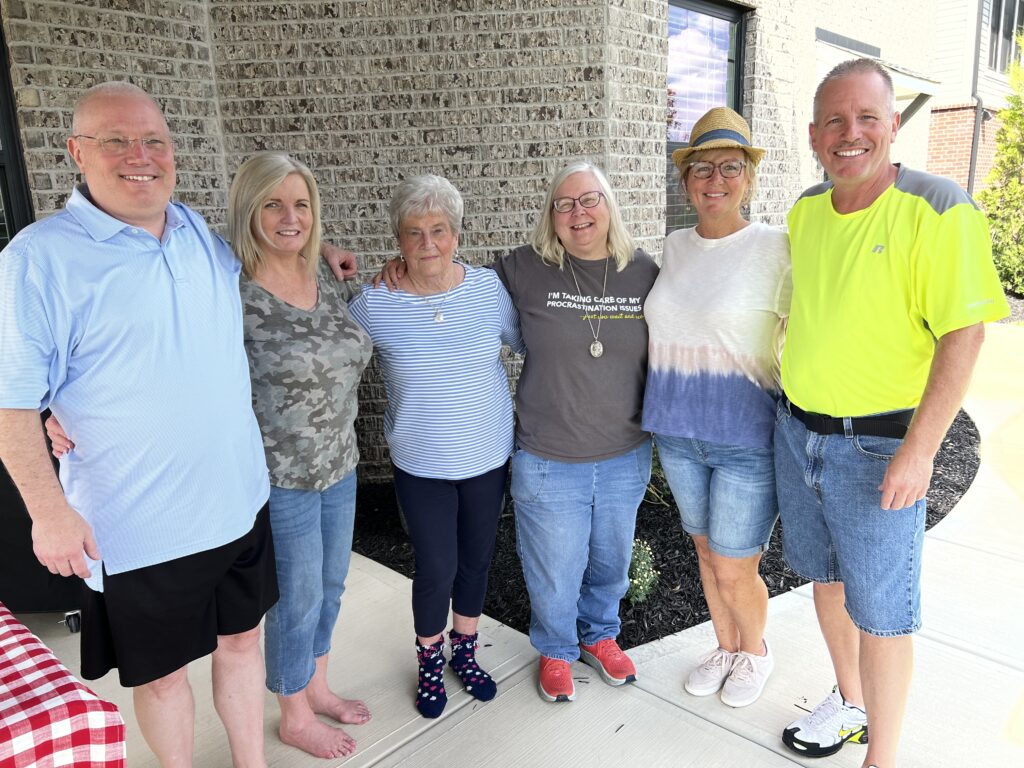 How does that famous quote go … "Sometimes it's the family you're born into and sometimes it's the one you make for yourself." Yeah, Carrie Bradshaw from "Sex and the City."
And sometimes it's the family you've been given through a parent's re-marriage … granting "permission," with no clue how it's going to work … only hoping for the best.
As Dad started dating after he and Mom divorced, I remember liking "this new woman" from the start. She was my height … maybe easier to meet eye-to-eye. She didn't have any competition from me being a "daddy's girl," so involved in Dad's life that I refused to allow him to move on and have a life of his own. I've seen so many divorced parents lives ruined by ignorant and intruding adult children who refuse to allow mom or dad to be human.
At 23 and an only child, I was relieved that my parents had finally divorced and left behind the sad, lonely existence they had lived together. The tension between those two couldn't be cut with a diamond-tipped drill. Whew! All I wanted was for them to find happiness with anyone else. My response to any prospective candidate would be: "Make them happy … because I've witnessed too much of their silent pain."
That person for Dad was Diane, who knew how to handle babies when she and Dad came to meet his first and only grandchild in June 1982. Dad had little experience with wee ones — me, too — but Diane was a pro after four kids of her own and launching a new generation of grandkids. She taught me a few things … well, several.
We drove 250 miles in double digit below zero temperatures to witness their wedding on Christmas Eve 1983 in his new home, the one she had lived in for nearly 20 years. I have no memory of engaging much with the four new siblings I had acquired overnight. I was too busy being a new mom and working full time. I did know one of the sister-in-laws as she and I had graduated in the same high school class. But Diane's kids had gone to a different high school in town, and one was still in school and living at home …
We all lived our separate lives though I did get to know my step-siblings better through summer family gatherings as our kids got older. Everybody lived in Indiana except me, my husband and son in Illinois. It wasn't until 2013 or so when we started to celebrate Christmas together, and I saw a new side of Dad that I had not experienced as a child … the man playing on the floor with grandbabies and soon great-grandbabies from Diane's kids.
Yes, he had been an active part of my son's life, but being four hours away didn't allow the daily or weekly visits he enjoyed with the growing number of babies. The man who laughed and talked baby-talk and shot endless photos of children growing up … something he didn't really experience with me or my son.
It didn't take long for Diane and I to become dear, dear friends. There were no hidden steps. She and her family became my bonus family … where I was accepted unconditionally. She gave me my Dad and brought us closer than we had ever been in my entire life.
Diane didn't take the place of my mom. I always told people that I was extremely blessed to have a wonderful mom, mom-in-law and bonus mom. In some respects, she was easier to talk to than Mom … but that's a whole other story …
I loved this growing bonus family and we had so much fun together in mid-December 2016, everyone gathering for the holidays, watching Dad play with the one-year-old twin great grandkids … having the time of his life. I shot endless photos of him being the kid at heart he couldn't be when he was a child or with his own daughter …
I remember saying goodbye and telling him how much I loved him that day, and how I came back inside to say it again before we drove away.
A few days later, I remember driving four hours non-stop to the hospital after Diane called to say something was wrong with Dad. I remember being surrounded and embraced by my bonus family when I entered the waiting room. I remember all of us at his bedside when he took his last breath the next day. I remember sitting in his rocking chair alone in the middle of the night … lamenting what I had lost …
Until fully comprehending on that night the week before Christmas what a beautiful gift I had been given … my bonus family. In addition to my husband, son and daughter-in-law, they were the ones who got me through losing Dad … the ones who got me through losing Mom 19 months later … the ones who got me through caring for my cousin 2,000 miles away in 2020 … the ones who got me through caring for my aunt in 2021 …
Unconditional love. As I wept silent tears the other day, I sent Diane a text message:
"My blood families, outside Dad and Mom, never showed the affection all of you share … YOU had to teach Dad how to accept and give affection. I discovered that my aunt wants connection only on her terms. My cousin are I building a relationship after all these years …"
And this weekend, I stepped into the photo without hesitation with my bonus brothers, sisters and mom to celebrate what so many people don't have … or can even begin to understand … a no-judgment zone, unconditional support and love … a safe place to share and comfort and be comforted …
Though we do not share the same blood, we share something far greater … and a desire to make our mom laugh louder and longer … all with my dad's blessing.
Thanks, Dad, for mustering the courage 40 years ago to ask this lady out for a date. My life hasn't been the same since … thank God.
Hey, drop me a line at [email protected] or leave a comment below. I'd love to speak to your group, organization or company about working our way through the pain and challenges of everyday life. You want straight talk? You got me!