Can you hear your calling above all the noise?
I've never seen so many earphone options in my life as in the marketplace today … tiny, big, over the ear, large enough to hide your ears from view and give the impression you could have alien origins. Hmm …
It's the modern need to be tuned into something, somewhere ALL the time. Being told we can learn and entertain ourselves on the go, walking, running, driving, etc etc etc. Use every moment to absorb something. Do this! Do that! Don't waste a minute!
Stop the world! I want to get off! Or at least provide barf bags!
Have you heard that we all have a calling? Have you unplugged your earphones long enough so you can hear it? Or turned off the TV or computer videos to blink and refocus on who or what is around you?
I miss my stroke and brain injury camps like crazy, reminded of just how important these events are to the survivors and caregivers who attend and the volunteers and staff who give their hearts, talents and time to these individuals.
For the uneducated who have never attended, they may think all attendees constantly need assistance or guidance. They are soooooo wrong. Our campers have callings, too, to help, lift, connect with and entertain each other.
They "hear" their calling and respond in amazing ways. I remember crossing the campgrounds in Texas when I heard the familiar hum of an electric wheelchair. It was a chair-avan as two campers held on to get a ride up the slope. I laughed the entire time I quickly photographed the adventure.
In New Mexico I saw Wendy sit down to assist fellow camper Shawna with her lunch. I had set my camera down on another table so I grabbed my cell phone and captured the moment.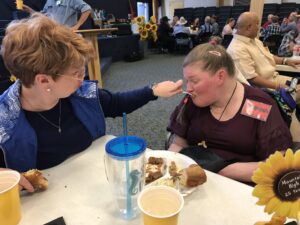 I was answering when God tapped on my brain, "Hey, get these shots before they're gone forever! That's why I sent you!"
What's YOUR calling? Are you tuning out the noisy background to listen to the messages being sent to your soul? Are you missing the best moments of LIFE when you decide to ignore "reality"?
You're here for a reason, and I guess I'm here to remind you of that. Whew! Glad I figured that out! Now, get to work!
Hey, drop me a line at [email protected] or leave a comment below. I'd love to speak to your group, organization or company about working our way through the pain and challenges of everyday life. You want straight talk? You got me!
"What Caregivers Need"
Request your copy here… it's free, it's downloadable… and we'll send it to you instantly via email.